In an effort to assist the State with its goal of vaccinating more Rhode Islanders against COVID-19, we have partnered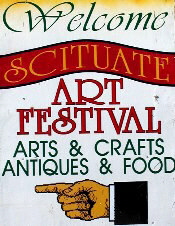 with the Governor and the Rhode Island Department of Health (RIDOH) to host a free vaccination clinic for attendees of the Scituate Art Festival.
The clinic will be held in a tent on library grounds, right near our book sale tent. Vaccine providers will be here for all three days of the festival, October 9-11 between the hours of 12:00pm and 4:00pm. The Pfizer vaccine, which is authorized for individuals ages 12 and older, will be available.
Participants will also receive assistance registering to receive their second dose, which should be administered three weeks after their first dose. Third doses for those who are moderately or severely immunocompromised will be available, and booster doses will be available for anyone who is eligible.
Every person who gets vaccinated at the clinic will receive a voucher for a free item from the food court. The library is working with several organizations for this voucher program to provide as many tasty options as possible. At the time of this post, we're still working to organize our vendors! If you are a food vendor and you want to get involved with this program, email Katherine.
Pre-registration is not necessary, but encouraged. Click the links below to register: